Double-Twist bunching machines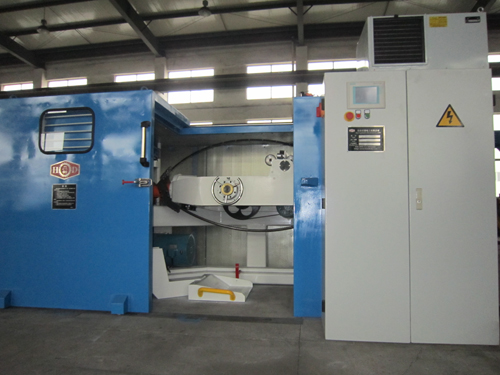 Main Capability Characteristic
Machines are presented in the following models: HD500, HD630, HD800, HD1000, HD1250, HD1600.
Structure of machine: hanging-frame cradle style, machine and housing are designed separately, take up by motor.
Pitch adjustment: mechanical gear/electric
Operation interface: HIM
Main components brand:Siemens, Schneider, NSK.
Bow material: Carbon fibers
Load & removing of reel: By hoisting motor, and rotating tray.
Technical Spec.
| | | | | | | |
| --- | --- | --- | --- | --- | --- | --- |
| Model | HD500 | HD630 | HD800 | HD1000 | HD1250 | HD1600 |
| Bunch section  (mm2) | 0.035-2.000 | 1.0-6.0 | 2,5-16 | 6-25 | 10-50 | 25-120 |
| Strand section 1+6   (mm2) | 0.035-0.720 | 1.0-6.0 | 2,5-16 | 6-25 | 10-50 | 25-120 |
| Unilay section 1+6+12 (mm2) | 0.073-1.950 | 1.0-6.0 | 2,5-16 | 6-25 | 10-50 | 25-120 |
| Max. linear speed (m/min) | 280 | 280 | 280 | 280 | 280 | 280 |
| Max. twists/min (tpm)  | 5500 | 4500 | 4000 | 2500 | 1500 | 800 |
| Bobbin dimensions | 500 | 630 | 800 | 1000 | 1250 | 1600 |